Hey mon capitan! I dont think its a matter of this era of Glasgows history being forgotten, more it was erased from our records after emancipation. Sad fact is, as I said, its true extent will never be known. Although, there are a few tantalising clues such as the painted out figure of a slave in John Glassford's family portrait:
The slave is under the blacked out area of the right-hand side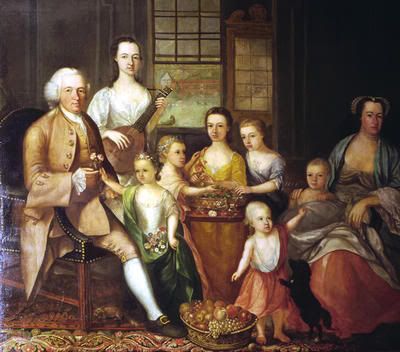 I wonder how un/common it was to own a slave in Glasgow at the time, i.e. how many people could afford one? Agreed though, I now doubt this "tunnel" was used for slave transportaion. I also doubt, however, our civic fathers would go to the expense of culverting this particular part of the Molendinar when they could just commandere the neighbouring fues? Interesting point though, it cant be ruled out at present. On the point of a ships ability to navigate he Clyde up-stream, can I just re-iterate the fact that a ship wouldn't have to; any "trans-continental imports" could be transported to Glasgow on river-going boats via one of the estury ports.
Any chance of a scan of that reciept? And how would your pal feel about sharing some of her insight here on HG?
Crusty
Doc