Had a wee search first in other threads, a couple of mentions of Renfrew Airport, but i don't see any threads.
Time to get back to a little bit of good old HG history
---------------------------------------------------------------------------------
RENFREW AIRPORT
It is recorded that as early as 1910 flying in the Moorpark area of Renfrew was conducted by JG Weir, this area was later to become the
site of Renfrew Airport.
Moorpark Aerodrome was formed in 1914 by the RFC - Royal Flying Corps who were the forerunners of the RAF. Moorpark Aerodrome was primarily used as a proving ground for the many Glasgow manufactured aircraft including those by Weir's.
In 1934 the Scottish Flying Club established a new clubhouse within which was Renfrew Airport Terminal. This was taken over by the Air Ministry and RAF prior to the beginning of WWII and was suitably extended for their wartime purposes.
At the conclusion of WWII, the RAF still had from time to time a Squadron based there, but essentially the buildings and infrastructure which were extended during the war were taken over for peace time passenger air travel.
The Airport was largely rebuilt in 1954 in a different site from the RAF and Flying Club buidings which had served as the Airport Terminal since the end of WWII.
The Architect of the very contemporary 1954 buildings was William Kininmonth.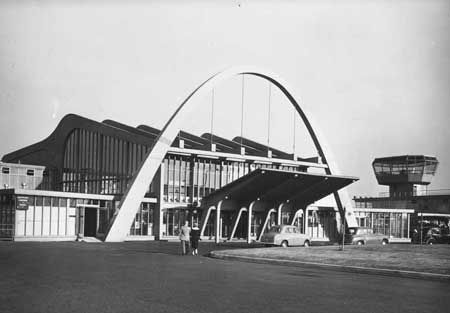 Main Entrance of the new 1954 Terminal Building (1956)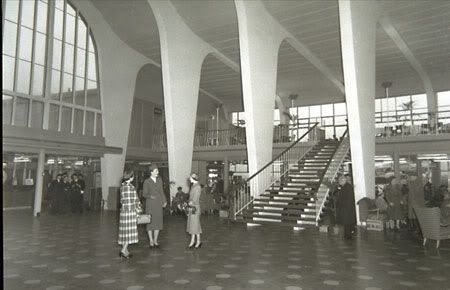 Inside the new 1954 Terminal Building (1954)
Inside the new 1954 Terminal Dining Room (1956)
The 1954 Air Traffic Control Tower (1960)
Renfrew Airport, although rebuilt in 1954 was closed in 1966, upon Abbotsinch (Glasgow) Airport opening.
Anyone familiar with the Moorpark Area, are there any remnants of this Airport? A bit of Asphalt?
Anyone old enough to remember visiting this Airport or even being lucky enough to fly from it or into it? Ah, the golden
days of travel.......