Sometime in February 1897 Constance Holland glimpsed her husband for the last time through the glass peephole of a prison door. As she left Reading Gaol in tears he, convict number C.3.3 had not even been aware that she was there. He had last saw her a year before on February 19 1896 in the same jail when Constance had come to inform him of the death of his mother. They would never meet again and she died in Italy aged just 39 following surgery on her spine on April 07 1898 (nor would he ever again see their two children). Constance Holland was buried in Staglieno cemetery.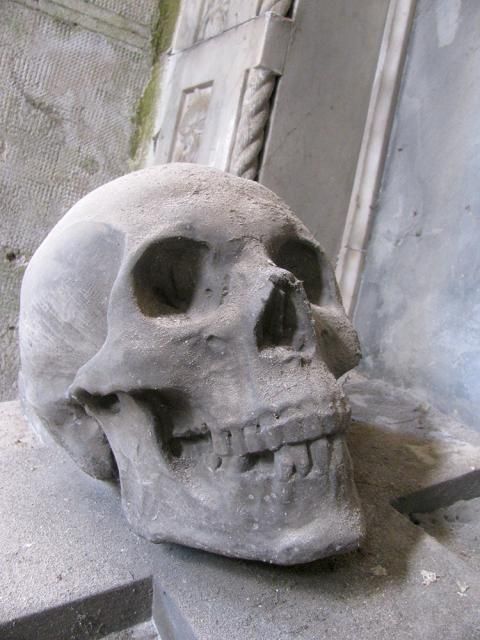 In March 1899 her husband travelling under the name of Sebastian Melmoth, on his way to Switzerland during the brief wandering time he had left to live after his release from prison, brought flowers to her grave in the "cemetery at the foot hills that become mountains around the city" (as Richard Ellmann decribed it). Although she never divorced Oscar Wilde, she changed her name to Holland following his disgrace and two year sentence at hard labour. Oscar read the simple tomb inscription "Constance Mary, daughter of Horace Lloyd QC" and felt he had never existed. "I was deeply affected" he wrote to Robert Ross, "with a sense, also, of the uselessness of all regrets. Nothing could have been otherwise, and Life is a very terrible thing."
The epitaph "wife of Oscar Wilde" has since been added to the base of the simple celtic cross over her grave. I didn't managed to visit and photograph it myself on my trips to Staglieno so far but I do think it is sad that Constance is remembered only in the brief inscriptions on her headstone as a very Victorian piece of property - as some man's child and another man's wife.
"God shall wipe away all tears from their eyes" reads the final inscription on her little Irish protestant monument. A quote from the last book of the bible, even this recalls her errant husband's brilliant jest in his play A Woman of No Importance.
Lord Illingworth: The Book of Life begins with a man and a woman in a garden.
Mrs. Allonby: It ends with Revelations.
(photos here are more of my random Staglieno pics, and not related to Constance's final resting place)