Quite often noticed that when something gets demolished, especially in the dense environs of the city centre, you get an interesting vista of stuff behind it, so I've started trying to document these views, since they may only be around for a short time.
First up is the Standard Life Building at the corner of West Nile and West Regent Streets. Took this snap the other day: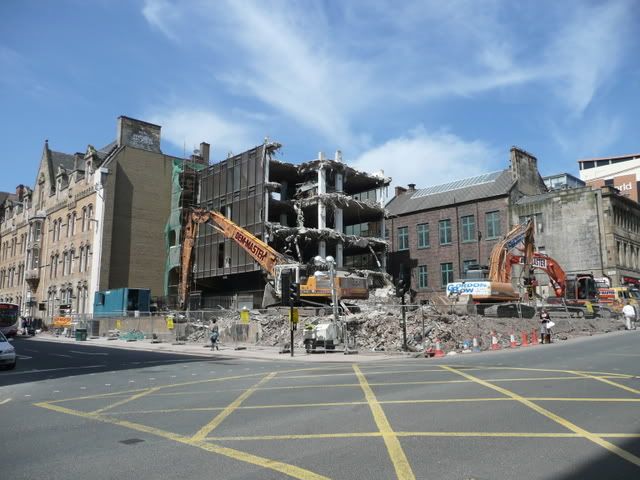 And then noticed this behind it: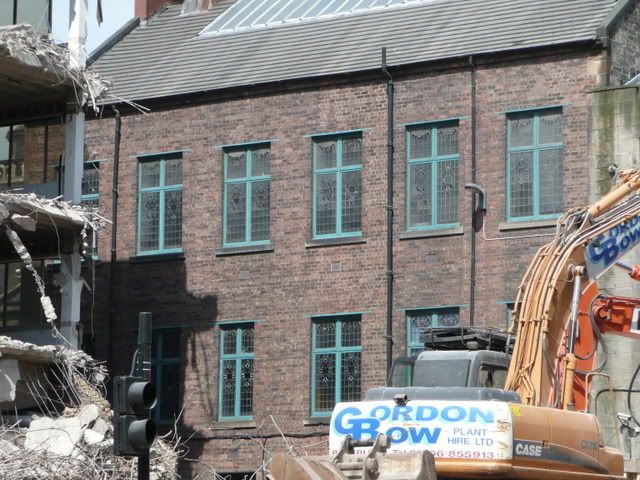 An older acquaintance of mine says he thinks it's an old hall that was entered from Bath St, rather than being attached to the wee Greek Thomson building it abuts on West Nile St (the City Barbers building). That seems to be borne out by aerial views on Live Earth, which also appear to show a partially glazed roof. He remembers attending union meetings in it, and thinks it might have been called the Central Hall.
From what I can tell, the building currently houses the offices and is the hall of the St George's Tron church round the corner, and is listed as 25 Bath Street. Anyone been in, know what it looks like inside? Lovely leaded windows, can't help but wonder if the interior is similarly decorative.
*Edit* I don't have my Glasgow edition of Buildings of Scotland handy, but it's on p.225 of that, according to the Dictionary of Scottish Architects website. The hall is an addition of 1894 by James Thomson, his DSA entry is here:
http://www.codexgeo.co.uk/dsa/architect ... id=M000758