David Hamilton – Architect – (May 11, 1768 – December 5, 1853) – "Father of the Profession" in Glasgow
David Hamilton was responsible for many of the buildings which regularly have featured on Hidden Glasgow over the last five years or so. As we are toying with the idea of having Project Threads on the great and the good i thought i would kick it off with David Hamilton.
Some of Hamilton's most noted buildings and structures in Glasgow which regularly feature on here are :
• The Royal Exchange building in Royal Exchange Square (1827 – 32) which is now the Gallery of Modern Art
• The Lord Nelson Oblisk (1806) in Glasgow Green
• Hutchesons Hospital (1802 – 05) in Ingram Street
A fairly comprehensive list of known Hamilton buildings and structures both existing and demolished is as follows :
Aikenhead House, King's Park, Glasgow, for John Gordon (1806 & 1823)
Airth Castle, Stirlingshire (1807)
Ardenconnel (1790)
Ascog Hall, Bute - (James Hamilton 1843)
Auchinraith, Blantyre (1809)
Ayr, New Kirk (1807)
Barnton Castle, Midlothian (Porch) (1810)
Barskimming House, Mauchline (Alterations) (1816)
Bothwell Parish Kirk (1825-33)
The British Linen Bank, Queen St., Glasgow (1840-41)
Broadmeadows House, Hutton, Berwickshire (1810)
233-5 Buchanan St., Glasgow - David Hamilton's own house (1811)
Cadder house, Lanarkshire for Charles Stirling (Drawing Room) (1817)
Callander House, Falkirk (Library) (1827)
Calton Green Housing (layout and elevation) (1812)
Camisekan House, Dunbartonshire (Additions to) (1840)
Campsie High Kirk, Lennoxtown (1827)
Castle House, Dunoon for James Ewing MP & Provost (1820)
Castle Toward, Innellan for Kirkman Findlay, former Provost (1820)
Castlehill House, Ayr (1804)
Castlemilk House and Bridge (1834)
Cathcart Church, Glasgow (1830-31)
The Cleland Testimonial Building, 235-49 Buchanan St., Glasgow (1835-36)
The Clydesdale Bank, Queen St., Glasgow (1840)
Duke of Hamilton's Palace (1822-30)
Dunlop House, Ayr (1831-34)
Dunoon Kirk - enlargements to Gillespie Graham's church (1834)
Erskine Parish Kirk, Bishopton (1813)
Falkirk Town Steeple (1813-14)
Garnkirk House, Cadder - retaining old facade (1820)
George Hotel, 249 Buchanan St., Glasgow (1835-36)
Germiston House enlarged for Lawrence Dinwiddie (1810)
(Improvements to the nave of) Glasgow Cathedral (1812)
(Additions to) Hamilton Ho, Portman Sq, London, for 10th Duke (1820)
Houses of Parliament Competition - 3rd Prize (1834)
Hutcheson's Hospital, 158 Ingram St, Glasgow (1802-5)
Irvine Royal Academy (1814-16)
John Knox Parish Kirk, Gorbals, Glasgow (1804)
Justiciary Buildings, Glasgow (1808)
Kenmure House, Lanarkshire for Charles Stirling (1806)
(Lodge and gates of) Keir, Dunblane for Archibald Stirling (1820)
Kilwinning Abbey Bell Tower (1815)
Kincaid House, Stirlingshire (1812)
Ladyland, Kilbirnie (1817)
Larbert Church (1818-19)
Larbert House, Stirlingshire (1822-5)
Lennox Castle, near Lennoxtown (1837-1841)
Moorepark, Govan, Glasgow (1805)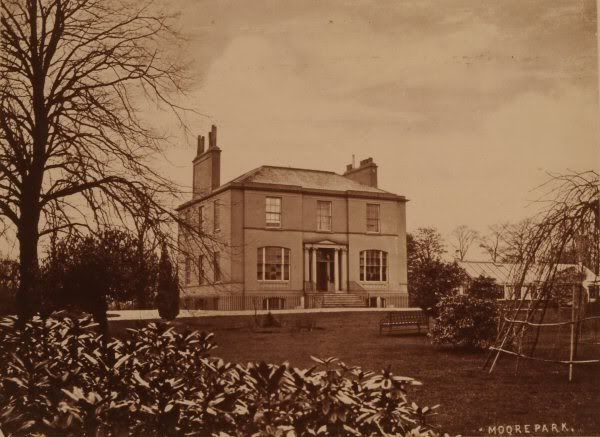 Mosesfield House, Springburn Park, Glasgow (1838)
Egyptian Vaults - Necropolis, Glasgow (1837)
Entrance - Necropolis, Glasgow (1833-39)
Nelson Monument, Glasgow Green (1806)
The Normal School, 6 New City Rd., Glasgow (1835-37)
Port Glasgow Town Buildings (1815-16)
Priory Lodge, Largs (1829)
(151-157) Queen St., Glasgow (1834)
Ralston House, Renfrewshire for Wm Orr (1810)
Robert McBriar's House, Glasgow (1808)
The Royal Exchange, Glasgow (1827-29)
St Enoch's Kirk, Glasgow (1827)
St Fillan's Villa (now Manor Park), Skelmorlie, Largs (1840)
St John's, Bell St., Glasgow, (1817-18)
St Paul's Kirk, John St (1835)
Scotstoun House, Glasgow, refronted (1825)
The Ship Bank, 191 Ingram St., Glasgow (1841)
(Additions to) Stonebyres House, Lesmahagow (1840)
Theatre Royal, Queen St., Glasgow (1803-5)
Tolbooth, Trongate for James Clelland (1814)
Trades House, Glassford St., Glasgow, Extention at rear (1808)
The Western Bank, Miller St., Glasgow (1840)
Western Club, 147 Buchanan St., Glasgow (1841)
There is much written about David Hamilton as he was in many ways - as he is often referred to - "the father of the Profession in Glasgow". Much of Glasgow's Victorian Built Heritage stemmed from him and his students through the early part to the middle part of the 19th Century.
I could quite quickly identify in the above list the buildings that are quite clearly lost, but i will leave that for now as some of the other buildings on the list are credited to him, when in some instances he is only responsible for remodelling existing buildings and carrying out alterations etc. Anyway, each building that has been lost has a story worth investigating, as to why it is gone and what replaced it.
I am currently reading up on him and i will post some photographs of the more obscure buildings in his portfolio soon.
One thing for sure is that he was prolific.
It would be good to get a definitive photographic catalogue on David Hamilton's life work as it currently stands. Photographs of his buildings which still stand, and past / present features on his buildings that have been lost.
The other avenue which would be worth going down is researching some of his clients who were in their own right real Glasgow Characters.