I have finally got round to reading the excellent "This Time of Crisis – Glasgow, The West of Scotland and the North West Approaches in the Second World War" by Andrew Jeffrey.
Its sheds much light on many of the Posts made on this thread over the last 3 years or so. Here is a fairly comprehensive and grim account of what was the worst single incident of any bombing raid in Scotland which occurred in Glasgow on the 13th March 1941 :
Nelson Street
"At one minute to midnight bombs exploded in McLure and McIntosh's factory in Florence Street in off Ballater Street and in Chapel Lane in the Gorbals. These were followed by two Parachute Mines on Tradeston. The first exploded in Nelson Street and the second on the stationery and fruit departments at the SCWS warehouse in Morrison Street.
The Mine in Nelson Street came down between a Tram and a Tenement at the corner of Centre Street. The blast was so powerful that it killed three French sailors in the Broomielaw on the other side of the river. Some 110 people died and a further 118 were injured. Eleven of those who died were in the tram from where, despite its complete destruction, 20 people were rescued."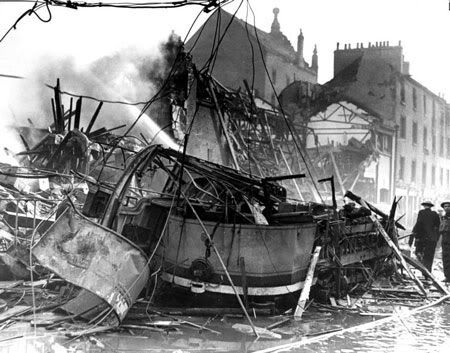 "Another 40 were trapped at 101 Nelson Street, Buildings collapsed on an underground shelter at 90 Nelson Street trapping 41 people, 36 of whom were brought out alive.
Head Warden E. Jones commented that 'It should, however, be placed on record the splendid manner in which the civilians of Tradeston came forward and put themselves under the charge of Wardens and other Services, and rendered assistance with total disregard to danger. They were really splendid'
Local residents were organised into three rescue parties, one each for the tram, 90 Nelson Street and 61 Nelson Street. On 14th March, 11 bodies were recovered from the ruins in Centre Street, nine from 101 Nelson Street, four from 92 Nelson Street and four from the back court at 146 Nelson Street. The corpses had begun to decompose by 19th March and urgent requests were sent to Main Control for protective gloves and disinfectant. Two severed female feet were recovered from 120 Nelson Street on 21st March, each still clad in its black lacing shoe. The incident post was not closed until 8th April and Nelson Street was not fully re-opened to traffic until 10 April."