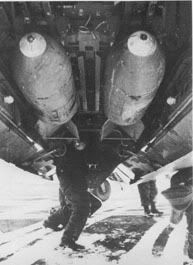 This wee picture is of 500lb Luftwaffe Bombs which i found on a WW11 resource site. This is what you would seem to have a chunk of Peter.
The 250lb would not give you such a big and heavy shrapnel remnant and the bombs over 500lb seem to be different shapes from your shrapnel piece.
The SC500 was one of the standard Luftwaffe Bombs which was capable of taking out a large building or half a street. The nose was cast iron, which is the shrapnel remnant that you have and the main shell casing of the Bomb was a Steel extruded tube which generally disintegrated on explosion.
I might be wrong, but i think that it was mainly 250lb Bombs, Incendiaries and Parachute Mines that the Luftwaffe dropped over the Clyde Valley and West Scotland, there were some 500lb Bombs dropped but i don't think too many in comparison.