Right Island, wrong temple though Ronnie
According to ancient Egyptian creation myth, the island of Philae was said to be the site of the Mound of Creation which emerged from the primeval Waters of Chaos at the beginning of time. The remains of the temple complex date largely from the Greco-Romano era of Egyptian history (200BC - 300AD) although was undoubtedly in use long before then.
With the construction of the first Aswan Dam (completed 1902), the Philae complex was partially submerged during the season of inundation which destroyed the wall paintings. Later, when the Aswan High Dam was built in the 1960's, the island was threatened with complete submersion and so the complex was transported stone by stone to the neighbouring island of Agilkia, about 550metres away.
Map of Philae
Recreation of Temple complex
The Hood Mausoleum is based on Trajans Kiosk (number 7 on the recration above), known colloquially to the Egyptians as "Pharaohs Bed". It was built, funnily enough, by Trajan who ruled AD98-117 and was originally intended as a grand monumental entrance to the temple of the Isis Cult which was centred on Philae, but was never actually finished.
It seems that the similar mausoleum in the Necropolis (pictured below) is based on "porch" of the temple dedicated to Hathor on Philae (numbered 8 on the recreation). ...better call in Dan Brown, this could be a masonic conspiracy
Glasgow Necropolis mausoleum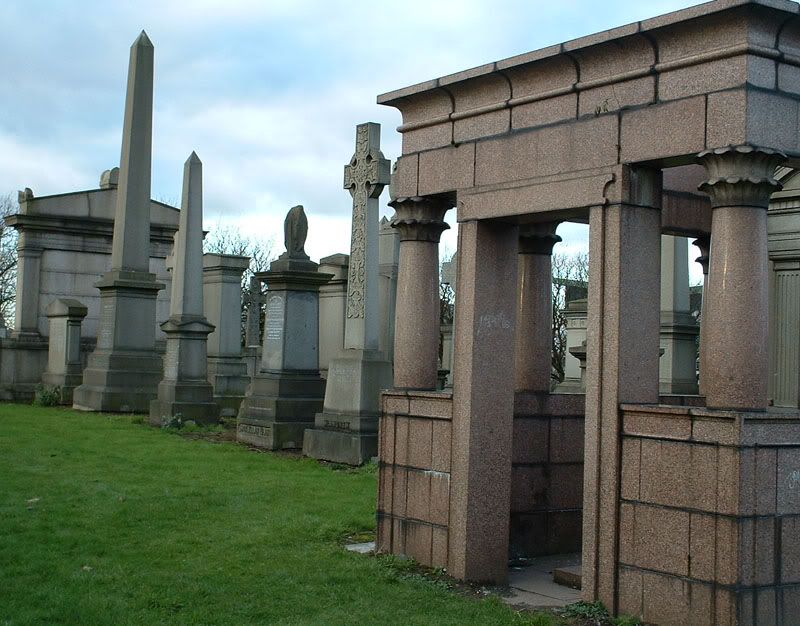 Now going back to the Monkey Puzzle tree and its possible significance. I came across this image from the tomb of TuthmosisIII:
It depicts Tuthmosis being suckled from the breast of a semi-personified sycamore tree wich has been identified as representing the Goddess Isis. In a funerary context, the goddesses Isis and Hathor were often represented as trees offering shade, food and water to the dead, and often acted as a focus for offerings of libations to the dead.
Another tree associated with Isis and Philae (through the legend of Osiris) was the Willow, or Tamarisk. This tree was believed to have sheltered the (or a part of the) dead body of Osiris and was protected by the Jackal god of war and the funerary cult:
Wepwawet
, whose name means "opener of the ways". So maybe we were all wrong about the broken sculpture?
Now I realise a Sycamore isn't Monkey Puzzle which isn't a Willow, and some of that's a bit tenuous, but it does make you wonder if Hoods interest in ancient Egypt would have led him to make such subtle references or if he just wanted a nice tree beside him?
Food for thought